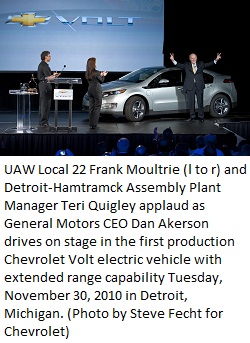 It's a red letter day for General Motors today, as the very first Chevrolet Volts rolled off the assembly line today at the company's Detroit-Hamtramck Assembly Plant in Michigan. The Volt is the world's first electric vehicle that also has a gasoline-powered generator, allowing it to keep on driving past the usual 40-mile battery limit.
In this edition of the Domestic Fuel Cast, I speak with Britta Gross, Director of Global Energy Systems and Infrastructure at GM, about the revolutionary technology that makes the Volt a truly impressive vehicle.

"With the Chevy Volt, you don't have to plan the way you use this vehicle. It's great if everyone drives off the battery. It's great if you don't have to figure out if you can stop at the dry cleaners [or pick up a sick daughter at school]. You don't have to plan your day around it."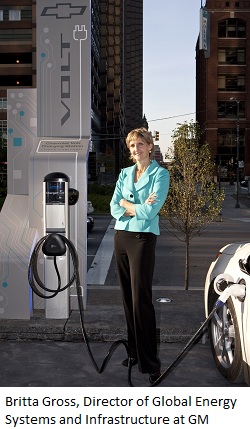 Gross says it's practically impossible to tell when you have switched from battery to gasoline power with the transition practically seamless. Plus, she says it easily plugs into a 120 volt, three-prong plug at home for charging overnight. No special charging stations are needed for this electric car.
While she admits the Volt can look a little pricey at first …. about $40,000 before the $7,000-$8,000 in tax credits that kick in … you have to keep in mind that this is first-generation technology and will get lower with time. Remember how much VCR and DVD players were when they first came out? But she says Chevy also has a lease option for the Volt, and at about $350 per month, it's on par with other vehicles in its class.
Gross says Chevy will produce 10,000 of the Volts in 2011 and another 45,000 in 2012. Now, these first two that rolled off the assembly line today will have special homes – the first will go into GM's museum and the second is being auctioned off with the proceeds going to support the Detroit Public School's math and science at www.bidonthevolt.com.
Gross says today is a proud day for her and many of her co-workers, some who have been working more than three years to make this dream a reality. And she says it's a sign that after a couple of tumultuous years, General Motors is back.
It's a great conversation, and you can hear more of it in the Domestic Fuel Cast here. Domestic Fuel Cast