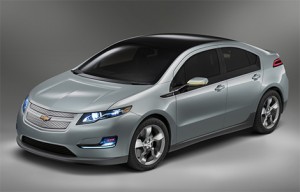 Chevrolet will be highlighting a promise the company made three years ago – to design, build and sell the world's first electric vehicle with extended-range capability, the Volt – in a web event tomorrow (Tuesday) morning:
To commemorate this milestone, we'll host an event at the Detroit-Hamtramck Assembly facility – the home of the Chevrolet Volt. The pre-show begins at 9:30 a.m. EST, and will be led by GM CEO Dan Akerson along with other key members of GM and Chevrolet leadership, including representatives from the Volt development team.
You can check out the webcast here, and I'll be talking with some of the good folks from Chevy during tomorrow's Domestic Fuel podcast.