Verenium announced this week that they have reached an agreement with Desmet Ballestra Group, s.a. to jointly market the Purifine enzymatic degumming process that combines Verenium's Purifine PLC enzyme and Desmet Ballestra's engineering services and equipment. As part of the agreement, Desmet has a license to market Purifine PCL along with its processing equipment and engineering services for processing vegetable oil for edible, biodiesel and other non-edible uses. Verenium already sells Purifine directly to customers.
"Verenium is pleased to be working with Desmet Ballestra, a world leader in the engineering and construction of oil extraction and refining plants," said Janet Roemer, Verenium's President and Chief Operating Officer. "By entering into joint marketing agreements with leading engineering service firms like Desmet Ballestra, we are able to accelerate the growth of our Purifine PLC product without incurring substantial incremental marketing expenses. I look forward to working with such an experienced and reputable player in the significant and growing edible oils industry."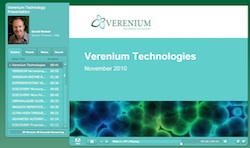 Olivier Hanne, the sales director for Desmet also expressed excitement over the partnership. "We are excited to partner with Verenium and to be able to market the Company's novel Purifine PLC product in tandem with our leading engineering services to our customer base. Desmet Ballestra's valuable international experience in the design, development and implementation of various process technologies for the edible and non-edible oil processing industries will greatly enhance Verenium's ability to further penetrate target markets with their leading enzymatic degumming technology."
Also this week, Verenium launched a monthly webinar series. The first webinar is presented by Sr. Director of R&D, David Weiner, and provides an overview of Verenium's unique and robust technology platform. It also details how their technology and expertise is utilized to develop tailored enzyme products to solve various industrial market needs, including those of the biofuels industry.