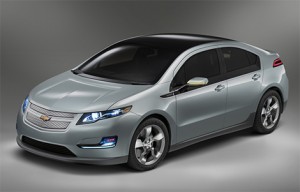 The LA Auto Show took place last week and several of the hottest cars were electric vehicles (EVs). On display were the much anticipated Chevy Volt along with its current biggest competitor the Nissan Leaf. According to Chevy, the Volt will be available sometime this year for pre-order and manufacturing will begin sometime in the first quarter of 2011. Once it is finally available, the price tag is expected to be in the $40K range. So maybe, just maybe consumers will actually get their hands on the Volt in 2011.
Nissan took orders for the the Nissan Leaf earlier this year and according to the company, the first year model is sold out. With a price tag around $32K it will definitely be a competitor to the Volt. But here is where the cars really differ. The Volt is both a plug-in electric vehicle with flex-fuel capability (PHEV). In other words, it has a gas backup that can run on anything from 100 percent gasoline to eighty-five percent ethanol and 15 percent gasoline, (E85) while the Leaf is a plug-in electric only vehicle (PEV).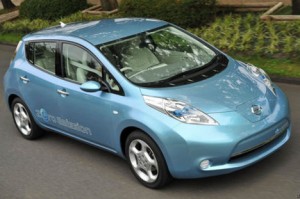 But how hot will EVs and PHEV's really be? The auto industry is banking on them and nearly all major auto companies have either an EV or PHEV car that will hit the market by 2012. Here are some examples: Audi is releasing 2 models, BMW is releasing 4 models, Ford is releasing 2 models, Mercedes Benz is releasing 4 models, Toyota is releasing 4 new models, Lexus is releasing 5 models, and Honda is releasing 5 new models. In addition, Cadillac has one model, Hyundai is launching its first hybrid, as is Jaguar, Infiniti, Mitsubishi, KIA, SAAB, and Volkswagen. And this list doesn't include the hybrids and EVs from independent car companies such as Fisker Karma, the Coda sedan, Smart Fortwo EV and Weego LiFE.
What is interesting is that very few of these vehicles are set to be plug-in electric FFV vehicles (PHEVs) meaning most won't be able to use higher blends of ethanol for their "gas" back-ups. However, if you take a closer look, you'll notice two things of interest. First, most of the EVs are coming from foreign manufacturers and countries such as China have plans to dominate the EV market. These same manufactures are not releasing many, if any FFVs. Second, American auto manufacturers are not releasing as many EV models as foreign manufacturers. However, in their case, they are releasing significantly more FFVs.
It will be extremely interesting to watch consumer adoption of the next generation of FFVs and EVs and simultaneously see if the American auto industry comes out on top with its gamble on alternative fuels or if foreign auto makers will continue to gain market share with their gamble on EVs.