For those lucky residents of Oak Creek, Wisconsin, you have a chance to kick off the Thanksgiving celebration with food and fuel this Saturday, November 20, 2010. Flex-fuel drivers (FFV) will have the opportunity to fill up with E85 for 85 cents per gallon from 9:00 am to 11:00 am at Woodman's Market located at 8131 S. Howell Avenue, Oak Creek.
During a time when many Americans are going hungry, promoters are also encouraging the community to bring a non-perishable food item that will be donated to the Oak Creek Salvation Army food pantry.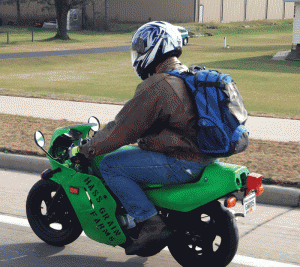 But that's not all. A special guest will also be on hand during the promotion – Guinness Book of World Records holder and Wisconsin resident Scott Dillman and his motorcycle. He recently completed the longest journey, 479 miles, on a pocket motorcycle running only on E85. The record took two attempts to succeed. He traveled from his home in Lamartine (Southeast of Fond du Lac) then onto Reedsburg, through Wautoma, Wisconsin Rapids, Thorp, Baraboo, Portage, and Beaver Dam. From there he headed home breaking the old record by 29 miles.
"The American Lung Association in Wisconsin recognizes E85 as a Clean Air Choice for its role in reducing harmful tailpipe emissions that cause lung disease," says Jolene McNutt, clean fuels coordinator and a sponsor of the promotion. "Widespread use of E85 in flex fuel vehicles is one way to improve air quality for all residents of Wisconsin, especially the Milwaukee area where air quality play a large role in the health of our communities."
For more information about the promotion, to determine if you drive an FFV and to learn more about the sponsors, click here.