Jackson, Tennessee is about to become the home of the state's largest solar farm. The new solar project is located at the American Drive Business Center and when completed in December of 2010, will consist of 4,914 Sharp solar modules manufactured at their Memphis facility and become the second 1 megawatt (MW) solar project within the seven-state Tennessee Valley Authority (TVA) region. In addition to the 1 MW, the project will also have a 47 kilowatt (kW) solar installation.
The renewable electricity created by the solar farm will go to the Jackson Energy Authority grid and be purchased by TVA. The energy produced from this solar array is enough to power more than 250 average-sized homes, and the power from the 47 kW solar array will be sufficient to power a portion of the operations at the Business Center.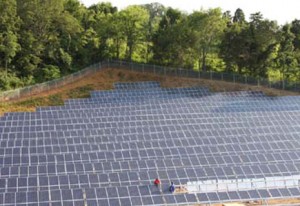 "Tennessee is becoming a regional leader in clean, efficient solar power," said Eric Hafter, Senior Vice President, Sharp Solar Energy Solutions Group. "Sharp is delighted to contribute to the growth of Tennessee's solar industry with our Memphis plant and with our ongoing involvement in solar projects such as this one in Jackson."
The solar farm was designed and is being installed by Efficient Energy of Tennessee (EETN) and this project is their second of this magnitude in the state. EETN's first solar farm project, that went online in July of this year, is located in Knoxville and also uses Sharp solar panels.
"This project is a terrific example of what private industry can do with the support of innovative state and utility based programs" said Robbie Thomas, President of Efficient Energy of Tennessee. "We're so pleased to work with companies like Sharp to create jobs, stimulate the state's solar industry, and help bring the benefits of clean, renewable energy to the people of our state."