The Iowa Power Fund has awarded three energy projects in the state more than $4.2 million. The decisions were made yesterday during the board meeting which took place at Grand View University. When combined, the three projects will generate an additional $21 million in leveraged funds. To date, the Iowa Power Fund has awarded more than $47 million to 37 projects focusing on energy research and development, early stage commercialization and education.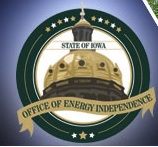 Ames-based AmbroZea was awarded $1.5 million for its work in the ethanol industry. The company will be applying high-protein expression biotechnology to further optimize multi-tasking yeast for commercial deployment.
Boone-based Avello Bioenergy, Inc. was awarded $2.5 million to help the company build a demonstration scale biomass plant, using local "farm-raised" feedstocks. The company is partnering with both the private industry and academics on the facility. The grant also include an educational component to reach out to researchers and students at Iowa State University and the Iowa Farm Bureau to benefit farmers.
The third award was given to Des Moines-based Indigo Dawn to focus on energy efficiency in renovated buildings.