After a six year absence in the IndyCar Series, Chevrolet will be back on track with a new twin-turbocharged direct-injected V-6 racing engine powered by E85 for the 2012 IZOD IndyCar Series. The new engine is being developed by GM and Ilmor Engineering and to date, Team Penske is the first and only team to commit to the new engine for the 2012 season. Team Penske previously tallied 31 open-wheel victories with Chevrolet engines, including four Indianapolis 500 wins.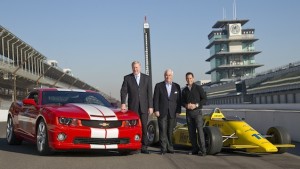 "Indianapolis Motor Speedway has been a proving ground for manufacturers since Louis Chevrolet, our co-founder, first raced here in 1909," said Chris Perry, vice president of Chevrolet Marketing. "Our return to IndyCar as Chevrolet enters its centennial year is natural. At the same time this engine program will be a showcase for the efficient and powerful engine technologies that parallel new Chevrolet vehicles like the Camaro, all-new Cruze compact and Equinox crossover."
Chevy engines last raced in the IndyCar Series between 2002-2005 when Honda came on board and developed the engines that first used E100 in racing. Since the historic IndyCar ethanol announcement in 2005, and the first race with ethanol blended fuel in 2006, many other racing leagues have made a switch to ethanol, the most recent being Nascar.
The Chevrolet IndyCar V-6 will have a displacement of 2.4 liters and the powerplant will have an aluminum block and cylinder heads, and will be a fully stressed chassis member supporting the gearbox and rear suspension. However, specific technical details and specifications will be released at a later date. Also, per IndyCar rules, all teams have the opportunity to compete with the new engines but are not required. Teams may also continue racing with their current Honda engines.
"We are excited to have engine manufacturer competition again in the IZOD IndyCar Series, beginning in 2012," said Randy Bernard, CEO, IndyCar. "Chevrolet brings a strong passion for racing, technology, relevance and innovation, which is a great fit for our new car platform. We are excited about the future of IndyCar racing with the addition of Chevrolet."