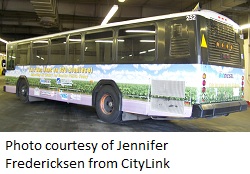 A city bus in Peoria, Illinois is now proudly proclaiming its use of biodiesel.
This article from the Peoria Journal Star says the bus is wrapped in a scene of white clouds and green fields:
"This bus runs on B20 biodiesel," says an advertising wrap which promotes cleaner fuels.
According to mass transit officials and their partners in this promotion, that benefits the entire area in several different ways. They held a news conference Friday to detail how cleaner biodiesel, which is partially made of soybean oil, improves air quality and cuts reliance on foreign oil.
"Use of biodiesel is a winner all the way around," said Bill Wykes, secretary of the Illinois Soybean Association. "It's good for the environment. It's good for the economy. It's good for Illinois soybean producers."
The city has 46 more new buses on the way.