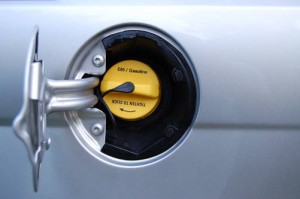 To get a heads start on Thanksgiving celebrations, Minnesota flex-fuel vehicle (FFVs) drivers will have the opportunity to fill up with E85 for 85 cents less per gallon on Tuesday, November 23, 2010. The "Fuel Your Holiday" promotion will take place at a Holiday station from 4-6 pm located at 12290 Nicollet Avenue in Burnsville.
There are more than 225,000 FFVs registered in Minnesota and 1,700 FFVs in Burnsville. Yet not every FFV owner is aware he or she can fill-up with higher blends of ethanol. Therefore, there will be people on hand at the station to help you determine if your vehicle is in fact an FFV.
Supporters of the promotion include Holiday Companies, the Minnesota Corn Growers Association, U.S. Department of Energy Clean Cities and the American Lung Association in Minnesota. For a complete listing of the E85 stations in Minnesota, as well as a list of all flex fuel vehicles that can use E85, visit www.CleanAirChoice.org.  For a list of Holiday stations that offer E85, visit www.holidaystationstores.com.