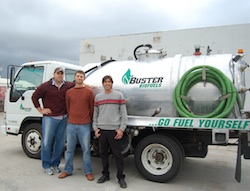 During a trip to San Diego I met with budding biodiesel company Buster Biofuels. The company is in the last phase of permitting and then will build a 2 million per year multi-feedstock biodiesel facility. According to Kristof Reiter of Reiter Scientific Consulting, who is working with Buster Biofuels, two of the most important elements for the company's success are implementing state-of-the art multi-feedstock technologies to produce biodiesel, and quality.
Biodiesel quality has been a thorn in the side of the emerging biodiesel industry. Today, there are ASTM standards in place that must be met for a producer to be legally selling biodiesel fuel. However, there is a growing concern among the industry that these standards are not enough to ensure high-quality biodiesel. As a result, many companies are creating their own biodiesel brands that exceed current ASTM standards.
I asked Reiter why there are so many quality problems in the industry. "It's my opinion that most people don't understand how feedstock, blend ratio, and temperature affect fuel performance," said Reiter. "Rather than requiring that fuel buyers learn chemistry, we should translate the chemistry into English."
Reiter continued, "I believe that the existing ASTM standards are sufficient, and largely in line with international standards. Interpretation of the data associated with these standards often requires a chemistry degree and thus many buyers are forced to 'hope for the best' when they purchase fuel. Many of the 'issues' associated with biodiesel performance in the past could have been eliminated if this 'technical data' was translated into 'plain English' for the fuel blenders."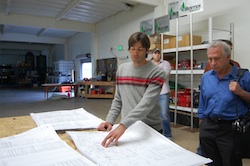 Reiter believes that the "one-size fits all" definition unnecessarily drives up production costs in regions where cold weather issues are not a concern. Therefore he recommends a more descriptive testing and categorization of biodiesel at the producer level so that the fuel buyer knows that the biodiesel he is purchasing will perform in his climate.
For example, Reiter explained that specifically requiring a biodiesel producer to test and report the cloud point for B2, B5, and B20 would allow fuel purchasers that need cold weather operability to selectively purchase the fuel from the ideal suppliers. He notes that these types of changes could be implemented immediately as the testing methods are already in place.
When Buster Biofuels begins to produce biodiesel, they will meet or exceed all ASTM standards. Reiter said that this is crucial in order for them to get their product into the market and to allow them to participate in the EPA's Renewable Fuel Standards program.
He stressed, "A multi-tiered system could greatly reduce the cost of biodiesel to end consumers in warm climates such as California, particularly in the summer months where Tier 3 fuels could be easily used without any increase in product failure."
You can view photos from my trip in my San Diego Algae Tour Photo Album.