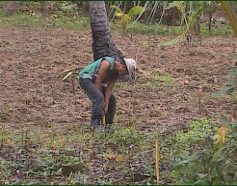 An American-based company that has land in the Philippines for jatropha plantations has announced it will try to acquire more land after the European Union has upped its targets for biodiesel sales.
Corpus Christi, Texas' GreenGold Ray Energies has announced it will try to add another another 200,000 acres for jatropha cultivation by 2012 because current biodiesel production is not meeting world demand. The EU wants to increase its target of 10 percent of fuel sold at the pump be biodiesel by 2020:
"We are not surprised by the announcements by the the EU to increase the use of bio-diesel as it is mostly the case everywhere," said Manolo Tecson, CEO of GreenGold Ray Energies Inc. "These new measures only provide additional comfort to our stakeholders, and shareholders," further added Mr. Tecson.
This announcement comes on the heels of GreenGold Ray Energies' five-year revenue forecast of $356 million, one of the biggest biodiesel production numbers out there.