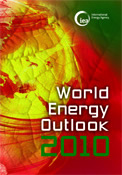 Today, the International Energy Agency (IEA) released its 2010 Edition of the World Energy Outlook in which it reported that global fossil-fuel subsidies have amounted to more than US $312 billion in 2009. The number includes subsidies to fossil fuels used in final consumption and to fossil fuel inputs to power generation. However, the report did not include direct producer subsidies that topped US $100 billion last year according to the Global Renewable Fuels Alliance (GRFA).
The IEA report noted that the $312 billion was down from US $558 billion in 2008, most notably because oil prices declined in 2009. Conversely, if experts are correct, the subsidies should climb again in 2010 with the increase in oil prices.
"As we strive to develop alternatives to oil we must recognize that we are not competing on a level playing field," said Bliss Baker, spokesperson for the Global Renewable Fuels Alliance. "Massive multi-billion dollar oil subsides are a serious obstacle to the development of cleaner greener alternatives. Oil has a huge competitive advantage financed by global taxpayers."
Next week the G20 will meet in Korea and the issue of oil subsidies is on the agenda following a commitment made at the G20 meeting in Pittsburg in September 2009. The EIA has been optimistic that they can spearhead a campaign to reduce global oil subsidies and will be presenting its case during the summit.
"Despite the IEA's optimism that there is momentum for reducing subsidies, not one country has eliminated an oil subsidy program since signing on to the pledge in 2009," said Baker.
In addition to the consumption subsidies, several countries continue to provide domestic producer subsidies to oil companies at alarming rates. According to a November 2010 study done by Earth Track, many countries continue to provide direct producer subsidies to oil companies including:
• Canada provides over US $2 billion per year to oil companies
• U.S. producer subsidies reached US  $52 billion in 2009
• European Union provided US $8 billion in subsidies to oil companies in 2009
Baker concluded, "It is time for the G20 to show leadership and reverse this practice of never ending subsidies to big oil. It is time to move beyond oil to a world with sustainable alternatives to crude oil such as biofuels and other renewable forms of energy."