Is the food versus fuel debate finally subsiding? It has been hanging around since 2008 when the Grocery Manufactures of America launched a coordinated attack on the ethanol industry blaming them for the rising cost of food. It turned out that the greatest offender was actually rising oil prices which topped out over $150 per barrel.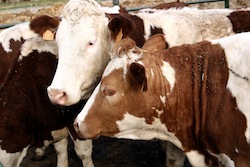 This week, the Wall Street Journal published an article about rising food prices. Many of you may know that they rarely miss an opportunity to blame the ills of the world on biofuels. However, in "Food Sellers Grit Teeth, Raise Prices," the authors mention several reasons why food prices are on the rise, one being a greater demand for meat in emerging countries such as China and India. This demand has raised grain prices, which have also been adversely affected due to the drought in Russia. Speculators also have a hand in the volatility of commodities.
For more than two years, the ethanol and agriculture industries have been fighting back. In addition, dozens of research studies have been released from organizations around the world with the conclusion that biofuels had "little to no effect" on rising food prices in 2008. The most recent report from the World Bank also came to this conclusion.
However, in the midst of this most recent food hike, Growth Energy is saying that although the debate has weakened, they "have to keep telling people the truth." They believe that, "The article further proves that food price increases are impacted by a number of factors. Not surprisingly, however, nowhere in the story do the authors mention any impact by biofuels."
Growth Energy concludes, "We have said it before and we will say it again, food vs. fuel has always been and will always be nothing more than a myth."