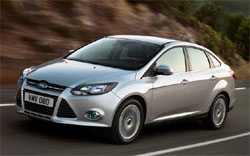 The 2012 Ford Focus will receive up to 40 mpg using E10 and will also be able to run on E85. The 2.0-liter engine will combine the technology of gasoline direct injection with twin independent variable camshaft timing and E85 flexible fuel capability.
Ford notes that the direct injection improves fuel economy and performance by delivering the exact amount of gasoline right into the combustion chamber. The engine can operate at a high 12:1 compression ratio, compared with the 2011 Focus' engine's 10:1 ratio, further enhancing power and efficiency. And unlike most competitive direct injection systems, the engine will be E85 flex fuel-capable.
The new Focus will be among the global leaders in fuel economy and CO2 emissions," said Derrick Kuzak, group vice president, Global Product Development. "We will continue to pioneer new technologies beyond launch, including the zero-emissions Focus Electric BEV launching in North America in 2011. Throughout its life cycle, Focus in all forms, in all regions, will demonstrate the Ford commitment to deliver unsurpassed fuel economy on a truly global scale."
Ford's 2011 flexible fuel vehicle line includes the Crown Victoria, E-Series Van, Escape, Expedition, F-150 and Super Duty. Their Lincoln FFV line includes the Navigator and Town Car. Mercury's 2011 FFVs are the Grand Marquis, Mariner and Milan.