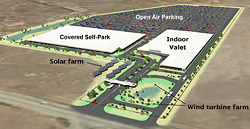 Canopy Airport Parking has partnered with Frontier Airlines to offer fliers a chance to ride to and from their green parking facility and the Frontier ticket counters on one of Canopy's seven biodiesel and hybrid shuttles.

Biodiesel Magazine reports the service will begin in late November:
A 3,000-gallon tank will be installed on-site to refuel the bus fleet, according to Karl Kelman, Canopy's marketing manager. "We also have buses that run on compressed natural gas and have a gasoline hybrid bus as well," he said.
In addition to biodiesel being used by Canopy's shuttle buses, the innovative parking facility is expected to feature other environmentally friendly technologies, including solar power, geothermal and wind power. When the parking facility opens, Kelman said it should be the country's first to feature energy efficient technologies from renewable sources. "We're hopeful that at some point there will be other parking facilities like Canopy that integrate similar green features."
This parking facility is seen as a prototype in environmentally friendly facilities.