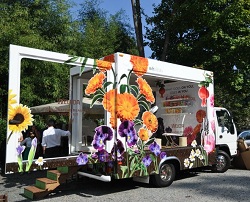 A cosmetic company that touts its products as "honestly natural, truly beautiful" is using a pretty beautiful fuel to spread its message.
Organic and natural skin and baby care products company Weleda has been taking a biodiesel-powered truck across North America to promote its cosmetics and to help raise awareness for the Safe Cosmetics Act of 2010:
We're driving our Biodiesel truck from one side of North America to another to spread our message that what goes on you goes in you, and to spread our message and share our wonderful products.
The next, and the last, stops for the tour will be in the Los Angeles area Nov. 5-7. More information is available on the company's Honestly
Natural, Truly Beautiful Tour website.