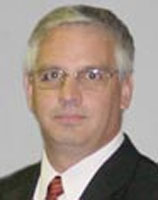 The U.S. Department of Energy (DOE) has named Kevin Herdler Clean Cities 2010 Coordinator of the Year in recognition of his successes in reducing petroleum use in the St. Louis region. Herdler has led the work of St. Louis Clean Cities (SLCC) since 2001. Under his leadership, SLCC drove down the region's 2009 petroleum consumption by 3.3 million gallons, reducing greenhouse gas emissions by 28,600 tons. And his efforts are on pace to exceed those numbers in 2010.
SLCC has initiated scores of projects that have replaced petroleum use with use of alternative fuels, laid the groundwork for infrastructure to deliver alternative fuels, and improved the fuel efficiency of vehicle fleets.
Among Herdler's recent accomplishments, he worked with six school districts to install fuel-fired heaters in more than 600 school buses. The heaters use a very small quantity of fuel to warm up bus engines and heat bus interiors, eliminating the need for drivers to idle their engines before they set off on their routes. Herdler has worked with truckers to install auxiliary power units (APUs), which also cut down on engine idling. Hundreds of St. Louis-based truckers now use APUs to heat their cabs and power appliances, thus chipping away at the 800 million gallons of diesel fuel lost every year in the U.S. to truck idling. Herdler even spurred the replacement of two Mississippi River tugboat engines, resulting in a 40 percent savings in their fuel use.
Herdler's seemingly limitless energy for reducing petroleum use springs from his days in the U.S. Air Force.
"As a military veteran, I see the impacts of our dependence on foreign oil," Herdler said. "I like the idea of using American fuel and supporting American jobs. And on top of that, there's the benefit of cleaner air."
"Kevin has been with Clean Cities since the beginning, and his heart has always been in this," national Clean Cities Director Dennis Smith said. "His actions are something to emulate and learn from, and we're proud of him."
Smith presented Herdler with the Coordinator of the Year Award on Sept. 21 during a leadership retreat in Rapid City, S.D. DOE selected Herdler from a group of accomplished nominees representing Clean Cities coalitions throughout the nation.