I'll never get tired of talking about the biodiesel tax credit – or should I say lack thereof. I recently had the opportunity to sit down with Lisa Mortenson, the Co-Founder & CEO of Encinitas, California-based Community Fuels during my San Diego Algae Tour and I took the opportunity to ask her her thoughts about the biodiesel tax credit.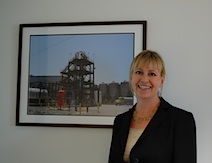 "The tax credit is frustrating because I think the damage that has been done to the industry is not due to the tax credit being there or not being there, it has to do with the uncertainty associated with the tax credit," answered Mortenson.
She continued by explaining that there are mechanisms in the market that can adjust to compensate for the lack of the tax credit and one of those key items is the RIN associated with the Renewable Fuels Standard (RFS2). However, with the uncertainty of tax credit, the industry hasn't seen a full adjustment in the market.
Mortenson hopes, like most in the industry, that the tax credit comes back retroactive to January 1, 2010 and continues through 2011. However, she said that if it doesn't come back, she doesn't believe the industry is dead. It will go through an adjustment period and the industry will need to look at different opportunities to compensate for the lack of credit.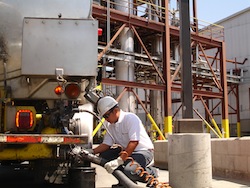 I asked Mortenson about the current lawsuit the petroleum industry has filed against the EPA claiming that they cannot be forced to meet RFS2 standards for this year and last. "The industry has to rely on truth and information," answered Mortenson.
She goes into detail about the situation and offers suggestions on how the industry can fight back. She also has some very insightful comments on the current ASTM standards and the need to revise them to improve the quality of biodiesel.
You can view photos from my trip in my San Diego Algae Tour Photo Album.
Listen to my interview with Lisa for all the scoop and special thanks to Editor, Louise Parker of Ethanol & Biofuels News for kicking off the interview. CleanTech San Diego A Global Top 10 Clean Tech Cluster