According to an article on BrighterEnergy.org, TradeWind Energy, based in Lenexa, Kansas, has negotiated a contract to provide wind power to Western Farmers Electric Cooperative (WFEC). Customers in Oklahoma, Texas, Kansas and New Mexico will be the first recipients of the wind power that will be generated from a 125-megawatt wind farm in Oklahoma and should generate enough electricity to power 40,000 homes.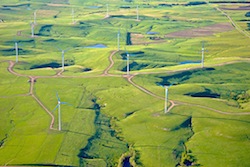 The first phase of the Rocky Ridge Wind Project, which is expected to begin in construction within the next six months, will be comprised of around 75 wind turbines located on 11,000 acres in Kiowa and Washita Counties in Oklahoma. Nearly 100 landowners are hosting the turbines and will receive rent payments. Later phases could add another 300MW. TradeWind Energy anticipates that the project will begin generating wind energy by January 2012.
Once the project begins, the developers believe approximately 150 construction jobs will be generated. However, once the wind farm is up and running, only 9-10 full time jobs will be needed.
"Rocky Ridge is one of the most energetic sites in our portfolio and its location allows us to take advantage of existing transmission lines to deliver power to WFEC's customers at a reduced cost," said Frank Costanza, TradeWind's executive vice president of corporate development in the article.
Costanza also noted that the Rocky Ridge wind farm would help meet Oklahoma's growing demand for energy through an "inexhaustible Oklahoma resource."
Mr Costanza said: