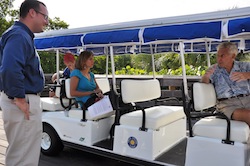 Tourists who visit Pelican Bay, one of Florida's premier beachfront communities, will now be transported via solar trams. The Pelican Bay Foundation, which owns 43 acres of parks, recreation areas, beachfront facilities and boardwalks, has officially converted their resident transportation trams system to solar/electric vehicles provided by Eco Trans Alliance of Sarasota, Florida. Per year, an annual tram logs 25,000 miles and give more than 800,000 rides.
"We look forward to effectively using the sun to power our transportation system and continue our ongoing initiative to reduce impact on, and preserve the tranquility and beauty of, Pelican Bay," said Pelican Bay Foundation Chairman Bill Carpenter. "Eco Trans Alliance provided a comprehensive solution and migration plan and made a clear and compelling rationale for our conversion to solar."
The new solar/electric tram system features a 460 watt on-board solar charging system that will produce over 400 kWh of electricity. According to a company release, each tram will reduce Pelican Bay's carbon footprint by more than 500 pounds of CO2 per year and with an entire fleet replacement (40 trams) the result will be a reduction of 22,000 pounds of CO2 yearly.
"We applaud Pelican Bay Foundation for its demonstrated leadership in sustainability practices. Pelican Bay has always been ahead of the curve with its approach to environmental affairs so there is no surprise that they would utilize the sun's natural energy to power their Tram System. We are pleased to have had our solar charging systems evaluated and chosen for this important implementation," remarked Greg Hyde, Special Projects Manager for Eco Trans Alliance.