ROUSH has announced a new venture, ROUSH CleanTech, to develop "green" vehicles fueled by propane and other alternative fuel options. The news was given by Jack Roush, the company founder. The company has invested millions of dollars into developing liquid propane injection powered vehicles. To date, ROUSH has focused on Ford Trucks and vans but with this new initiative, more types of vehicles should be added to the line up.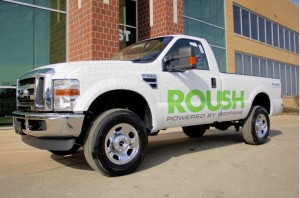 "For more than 35 years the ROUSH brand has developed experience in OEM-level automotive engineering, design, manufacturing, certification, and assembly," said Todd Mouw, vice president of sales & marketing. "Today we announce the formation of ROUSH CleanTech, which blends our corporate talents into delivering product into the alternative fuels landscape. Our focus is on three key areas: providing the very best in quality, performance, and service for our customers."
In the United States there are only 300,000 propane fueled vehicles whereas there are 14 million worldwide. Mouw believes that the company's current and future product offerings will revolutionize the way people view alternatively fueled vehicles.
According to Joe Thompson, the president of ROUSH CleanTech, propane offers a variety of advantages. "Propane burns cleaner than gasoline or diesel, with up to 20 percent less nitrogen oxide, up to 60 percent less carbon monoxide, 24 percent fewer greenhouse gas emissions, and fewer particulate emissions when compared to gasoline," said Thompson. "Already the third most widely used fuel, it is available 'right here, right now' with a national infrastructure already in place. Propane plays a strong role in lowering our national dependence on imported oil, as 90 percent of the propane used today comes from domestic sources of production, and an additional 7 percent from Canada."