NASCAR has announced it will race with ethanol-blended fuel in its three national touring series in next year.
"NASCAR is committed to being an environmental leader, and the sport has taken significant steps over the years toward conservation by introducing measurable, best-in-class initiatives in recycling, alternative energy, and carbon mitigation," said Brian France, chairman and CEO of NASCAR. "The transition to Sunoco Green E15 takes our long-term sustainability strategy to the next level. Sunoco Green E15 is good for racing, good for the environment and good for America. While fueling the same close, door-to-door racing that thrills our fans, American ethanol creates jobs in the United States, helps foster energy independence, and continues the greening of our sport."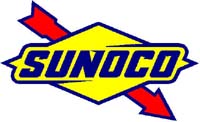 The fuel will be provided to NASCAR by Sunoco. The new high-performance fuel is called Green E15, described as "a 15-percent ethanol blend using American-made ethanol from corn grown by American farmers."
"Since 2004, Sunoco has produced and delivered to NASCAR the world's best racing fuel flawlessly in a challenging, high-stakes environment," said Bob Owens, senior vice president of Sunoco. "We're proud to be part of NASCAR's dedication to conservation with Sunoco Green E15 — the ultimate high-test ethanol fuel blend. In our six years as official fuel partner, Sunoco has changed with the times by helping NASCAR transition to unleaded fuel, and now we are eager to produce for the sport a high-performance ethanol blend."
As the new official fuel of NASCAR, Sunoco Green E15 will replace Sunoco 260 GTX, the 98-octane, unleaded race fuel that set the standard for performance. Starting in 2011, Sunoco Green E15 will be used by every car and truck in the NASCAR Sprint Cup Series, NASCAR Nationwide Series, and NASCAR Camping World Truck Series.