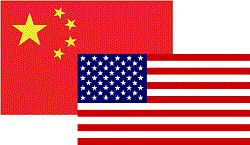 American officials say they are looking into allegations that China is providing unfair support to the country's wind and solar products makers, as well as the advanced batttery and energy-efficient vehicle industries.
This Wall Street Journal article says U.S. Trade Representative Ron Kirk promises a vigorous pursuit of these allegations through the World Trade Organization:
The United Steelworkers union on Sept. 9 petitioned the Obama administration to examine China's green technology practices, saying the country employs export restraints and subsidies, discriminates against foreign companies and imported goods, and engages in other practices that harm U.S. interests and run counter to global trade rules.
A spokesman at China's embassy said the country's policies promote energy security and sustainable development, and conform with WTO rules.
"As allegations contained in the petition in question are unwarranted, it's not a right move by the U.S. side to decide to conduct investigation into it," said embassy spokesman Wang Baodong.
The article goes on to point out that while the U.S. also supports its own clean-energy sector, the USW says China is using its subsidies specifically to help exports, a violation of trade rules.