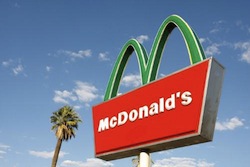 The Golden Arches are going green. A McDonald's restaurant, that was rebuilt in Riverside, California, became the fourth in the U.S. and the first west of the Mississippi to go green. The building, which is owned and operated by Tom and Candice Spiel, re-opened the new energy efficient, sustainable McDonald's with a multitude of green features including 'Green Arches'.
"We were inspired to build a McDonald's restaurant that highlights the green focus of Riverside: California's first Emerald City," said Candace Spiel, McDonald's owner/operator. "We are so proud of this restaurant and its possibilities to encourage and educate our customers and community on the importance of environmental sustainability."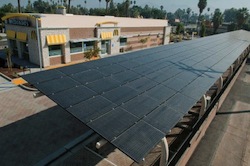 Some of the key features include 294 photovoltaic solar panels that will generate a portion of the restaurant's power consumption.
Other green features include:
* Light colored hardscape to reduce heat emissions from site
* Native drought tolerant plants to reduce water consumption by landscape
* Low flow plumbing fixtures to reduce water usage
* Recycled denim insulation inside the building
The green McDonald's also features an interactive touch screen display for visitors to learn about the building, environmental sustainability, and how individuals can reduce their carbon footprint. In addition to owning this McDonald's, the couple also own and operate eight others in and around California's Inland Empire.