The wind industry received a boost this week with the release of the "Global Wind Energy Outlook 2010," in Beijing ahead of the China Wind Power 2010 conference slated to begin today. China is now the world's largest wind power market and the Global Wind Energy Council (GWEC) anticipates the country's wind power will increase 10 fold by 2020. The report forecasts that wind power could provide a fifth, or up to 22 percent of the world's electricity needs by 2030 while at the same time achieving major greenhouse gas emissions reductions, and details how global wind power capacity could reach 2,300 GW by 2030 and reduce CO2 emissions by 34 billion tons.
The GWEO 2010 presents three different scenarios for global wind power development through 2030, Reference, Moderate and Advanced. The Reference Scenario is based on the new 2010 IEA report, "Projected Costs of Generating Electricity" and although its wind numbers are cautiously optimistic, it believes wind power will replace oil's role in electricity generation by 2030.
The report also calls for a global agreement to be reached regarding greenhouse gas emission reduction goals and encouraged more governments to achieve their goals through the development of green energy.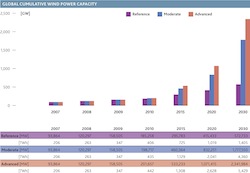 "Wind power can make a massive contribution to global electricity production and to decarbonising the power sector, but we need political commitment to make this happen." said Steve Sawyer, GWEC's Secretary General. "Wind power technology provides governments with a viable option for truly tackling the challenges of our time and for being part of the energy revolution our planet needs."
In addition to environmental benefits, the report also demonstrates that wind energy is becoming a substantial factor in economic development, providing more than 600,000 'green collar' jobs today both in direct and indirect employment. By 2030, the number of jobs is projected to increase to over 3 million. In 2010 a new wind turbine was in stalled every 30 minutes and GWEC's goal is that by 2030, a wind turbine is installed every seven minutes.
Today, more than 75 countries have at least one operational wind farm and by 2030, GWEC predicts that half of the new installed wind capacity will be in developing countries.