A new solar power plant under construction in Ontario, Canada has selected Sharp thin film solar panels for its 18.5 MW plant currently under construction on two sites in Port Dover and Simcoe. The plant is a joint venture between SunEdison, a subsidiary of MEMC Electronic Materials, and SkyPower Limited and when completed will have two operational solar parks, SunE Sky Norfolk I and II.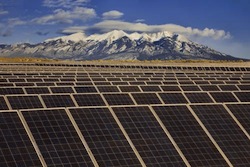 SunEdison spokesperson Jason Grey noted that his company is thrilled to have worked with Sharp on the project and partner Kerry Adler, President and CEO of SkyPower Limited said of the project, "We welcomed the opportunity to deploy Sharp's impressive technology in the SunE Sky Norfolk solar projects. As one of Canada's leading owners and developers of solar parks, with over 1.4 GW in our solar pipeline we look forward to many more projects like these."
Once the plant is operational, the power produced will be delivered by Ontario Power Authority to its customers. According to Sharp, the thin-film solar cells have a structure in which thin layers of silicon are deposited onto a glass substrate, enabling a dramatic reduction in the amount of silicon used. The production processes are simpler, thereby making these products ideal for large scale solar park projects.
"We're proud to work with SunEdison and SkyPower to help bring more clean, renewable energy to the people of Canada through this landmark project," said Eric Hafter, senior vice president, Sharp Solar Energy Solutions Group. "We applaud the Ontario Power Authority for translating government's clean energy policy into tangible results for the people of Ontario."