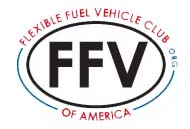 The National FFV Awareness Campaign in cooperation with the Central Texas Clean Cities, Sac N Pac Stores, Inc., Growth Energy and Protec Fuels is holding a grand opening celebration today for their new E85 pump. The idea is to bring consumers more access to higher blends of ethanol in Texas. The celebration will be held at the Sac N Pac E85 station at 1002 Highway 80 in San Marcos, Texas.
"Choice is the cornerstone of independence and the free market. October 17, 2010 marks the 37th anniversary of the nation's 1st oil embargo. Many shortages and price spikes later U.S. oil imports continue to rise and are expected to soon reach 70%. After 37 years of fighting for change consumers now have a choice of FFVs auto dealer showrooms and E85 at the pump," said Burl Haigwood, the project manager for the National FFV Awareness Campaign. "Over 9 million consumers nationwide, and over 700,000 consumers in Texas, are driving these special FlexFuel Vehicles (FFVs)—but most FFV owners don't know they are driving one. Our goal is to locate and educate FFV owners, and motivate them to buy higher blends of ethanol like E85. There is a tremendous economic stimulation opportunity from developing new biomass crops into biofuels in Texas — if consumers continue to show retailers they prefer domestic clean burning fuels like E85. Just like paper or plastic, we now have gasoline or E85. Consumers now have choice."
"We are pleased to be working with these groups in Texas to support high level blends of ethanol and flexible fuel vehicles," said Growth Energy CEO Tom Buis. "Providing consumers with greater access to ethanol will help reduce our dependence on foreign oil and strengthen our energy security." Growth Energy is an official supporter of the campaign.
Sac N Pac's grand opening celebration will include remarks beginning at 1:00 p.m. by invited guests such as: Mayor of San Marcos, State Representatives, San Marcos City Council Representative, Hays County Commissioner Representative, San Marcos ISD and Hays County Consolidated School Districts Representative.
Registration for a $500 E85 fuel card gift card will begin during the promotion and FFV drivers will have until November 15, 2010 to qualify at the station.