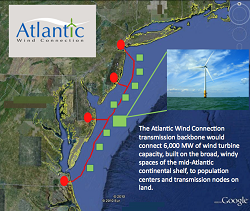 Internet search engine giant Google is investing in a massive wind project off the U.S. East Coast that will end up connecting 1.9 million homes in the Mid-Atlantic region with clean wind power.
According to the company's blog, the Atlantic Wind Connection (AWC) backbone between New Jersey to Virginia will be connect 6,000 megawatts (MW) of offshore wind turbines.
The AWC backbone will be built around offshore power hubs that will collect the power from multiple offshore wind farms and deliver it efficiently via sub-sea cables to the strongest, highest capacity parts of the land-based transmission system. This system will act as a superhighway for clean energy. By putting strong, secure transmission in place, the project removes a major barrier to scaling up offshore wind, an industry that despite its potential, only had its first federal lease signed last week and still has no operating projects in the U.S.
Google says that area is perfect for offshore wind projects, with the potential of 60,000 MW of offshore wind energy. The Mid-Atlantic region has shallow waters that extend far out to sea, enabling developers to build larger turbines able to take advantage of the stronger winds and practically out-of-sight from the land.
The entire project is expected to cost around $5 billion, although Businessweek reports Google is investing just 37.5 percent in the development stage, about $200 million. New York-based Good Energies and Japan's Marubeni are also investing in the project.