Lamb Energy is practicing what they preach. The solar company has just completed a solar roof array utilizing Sharp solar panels on its headquarters in Riverside California. To date, the company has worked on solar projects with the likes of the Naval Post Graduate School, Marine Corps Air Station and Naval Air Weapons Station.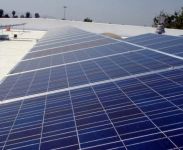 "Sharp panels offer the reliability and superior engineering we trust in our customer installations, so it was the obvious choice to use their solar panels on our own project," said Matt Shea, Vice President of Business Development at Lamb Energy. "Sharp powers more homes and businesses than any other solar panel manufacturer worldwide and we're happy that our headquarters is now a part of the clean energy revolution."
The 17.5 kilowatt system will power approximately 60 percent of the building's annual energy consumption. Each year, the solar array, comprised of 81 Sharp ND-216UC1 216 watt polycrystalline modules in a roof mounted system, will eliminate approximately 9.5 metric tons of CO2 from entering the atmosphere. When compared to oil, the solar energy will offset the consumption of more than 45 barrels of oil per year. To help cover the costs of the project, Lamb Energy tapped into Riverside Public Utilities' $3 Watt solar rebate, saving the company more than $44,000 on the project.
"It's the ultimate vote of confidence when a company that specializes in solar installations selects our panels for their own building," said Eric Hafter, senior vice president, Sharp Solar Energy Solutions Group. "We value our relationship with Lamb and we're delighted that they chose Sharp panels to power the solar array at their headquarters."