GoingGreen Silicon Valley has named it's Top 100 for 2010 and on the list includes renewable biofuel and biochemical company, OPX Biotechnologies (OPXBIO). The list honors the companies that are developing technologies that will 'change the world' and 'disrupt existing markets and entrenched players'. The list is based on five major categories including innovation, market potential, commercialization, stakeholder value, and media buzz.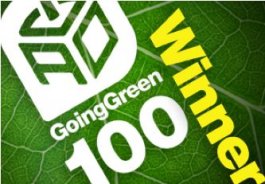 "It is an honor to be recognized among this impressive group of clean technology industry leaders," said Charles R. (Chas) Eggert, President and CEO of OPXBIO. "This recognition strengthens our responsibility and commitment to realize the economic and sustainability benefits of our breakthrough first commercial product – renewable BioAcrylic – for consumer and industrial customers."
According to OPXBIO, they have developed a proprietary technology known as EDGE (Efficiency Directed Genome Engineering) to manufacture renewable bio-based chemicals and fuels that are lower cost, higher return, and more sustainable than existing petro-based products. Of special note, the company has developed a diesel fuel bio-processed from carbon dioxide and hydrogen. The U.S. Department of Energy has awarded OPXBIO $6 million to support this development.
Other notable winners in the GoingGreen Silicon Valley Top 100 include; Amyris, Chemrec, Cobalt Technologies, CoolPlanetBioFuels, Coskata, EdeniQ, Gevo, LS9, Mendel Biotechnologies, Sapphire Energy, Solazyme, Synthetic Genomics, and ZeaChem.
Weston McBride, Greentech Editor at AlwaysOn said of the winners, "The GoingGreen Silicon Valley Top 100 winners have thrived during trying economic conditions through innovation and creativity. It is by their example that the next generation of clean technologies will transform the global economy with more robust systems primed for sustained growth."