According to the Associated Press, General Electric has announced that it has received a contract from Brazil state-owned energy company Petrobras to convert a second gas turbine to burn sugarcane-based ethanol. The turbine is at a power plant serving the city of Juiz de Fora, northwest of Rio de Janeiro.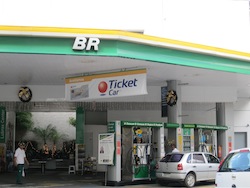 Back in January, Petrobras' plant became the first in the world to generate electricity from ethanol, but possibly more unique, it became a "flex-fuel" turbine in that it can run using either ethanol or natural gas. With a successful testing period, the second turbine at the facility is now being flex-fuel converted as well.
According to a Petrobras press release from this past January, the thermoelectric plant, which is one of 14 operational thermoelectric plants running on natural gas in the park, is comprised of two 6,000 GE LM aero-derived turbines. One turbine provides half of the electric plant's 87 megawatt capacity. In addition to the thermoelectric plants, the park also has 15 small hydroelectric plants and 12 that run on oil for a total of 7,028 megawatt capacity for the entire park.
The conversion of the turbine involved the replacement of the combustion chamber, of one of the injector nozzles, and the installation of peripheral equipment (receipt system, tanks, pumps and filters) which allow the receipt, storage and flow of ethanol to the turbine, according to the release.
Petrobras is Brazil's largest energy company.