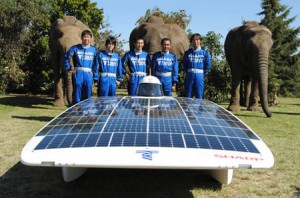 The "Tokai Challenger" has won the 2010 South African Solar Challenge, for the second year. The Tokai University team first won this race in 2008, but also won the Global Green Challenge in 2009. The Global Green Challenge is the world's largest solar race and last year was held in Australia.
The grueling South African Solar Challenge took place over 11 days, from September 22 to October 2, in the Republic of South Africa with official support of Federation Internationale de l'Automobile. The "Tokai Challenger" solar car is equipped with Sharp compound solar cells developed for outer space applications. According to Sharp, the cells have a cell conversion efficiency of 30 percent, the highest level in the world, with an output of 1.8kW.
The Tokai University team started the race from Pretoria, the capital city of the Republic of South Africa, passed through Cape Town and Durban and ultimately crossed the finish line back in Pretoria. They covered 4,061.8 kilometers at an average speed of 90.1 kilometers per hour. The Tokai Challenger crossed the finish line in the first place at 12:00 PM on October 2 (local time).