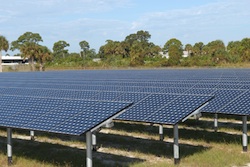 The space center is going solar. This week, NASA's John F. Kennedy Space Center (KSC), located on the East coast of Florida, has begun the installation of a 79 kilowatt solar array on their new Propellants North Facility. The solar panels selected were developed and manufactured by Sharp. Once completed, the solar array will generate enough energy to power the entire building with no net energy consumption and no carbon emissions. In addition, the building will become of only 150 projects to qualify for the LEED Platinum certification, a program under the U.S. Green Building Council's Leadership in Energy and Environmental Design (LEED).
"NASA always has been about high efficiency and sustainability. Over the past 50 years NASA has been in the forefront of cutting edge solar technology for use in space." said Frank Kline, project manager for the Propellants North Facility. "While part of NASA's mission is to discover and explore other planets, the Propellants North Facility reflects our commitment to taking care of planet Earth too."
The solar array includes 336 Sharp solar panels manufactured in Sharp's Memphis TN plant. Each panel will produce 235 watts of clean energy. The majority of the array will be roof mounted on the curved aluminum roofing system utilizing next generation standing seam aluminum clamps eliminating the need for any other structural connections and roof penetrations. The remainder of the Sharp array is utilized as the power source for Kennedy's first solar powered electric vehicle charging station. The new facility's parking lot will house a solar panel covered canopy with six 240v electric vehicle charging stations for use by NASA's fleet of electric vehicles.
"We are pleased to be a part of such a forward-thinking project as the Propellants North Facility at KSC. LEED Platinum certification highlights NASA's commitment to green building and clean energy. Sharp is delighted to be a part of the team that assists NASA and helps pass the energy savings on to the taxpayer," said Eric Hafter, senior vice president, Sharp Solar Energy Solutions Group.
This is not the first solar project on site. Last year, the Kennedy Solar Energy Center went online. SunPower Corp. designed and built the facility by mounting 3,344 panels atop 1,183 piers, and the structures are designed to withstand 130 mph winds.