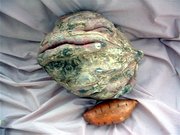 David Letterman is no stranger to ethanol. For several years, Team Ethanol competed on the Rahal Letterman Racing team. However, Letterman may not be well-versed in some of the more unique possible feedstocks that are being researched for ethanol, until this week.
On Monday, Letterman was doing a special featuring giant vegetables and North Charleston native and horticulturalist, Janice Ryan-Bohac, was selected to showcase her 15 pound sweet potato. She did, only she threw a few extra messages into the mix. She told the crowd that Carolina Advanced Renewable Energy has been developing the yam as an ethanol feedstock in South Carolina. According to Bohac, this variety of sweet potato could creative five to six times ethanol per acre as compared to corn.
Bohac is no stranger to the promotion of the yam for energy: she carried them around the 2008 presidential election to create awareness, and following her appearance on The Letterman Show, she traveled to Washington to meet with various USDA officials as well as Senate and House staffers.