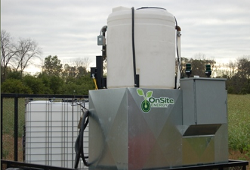 While Flint, Michigan might be best known for being the birthplace of General Motors … and, more recently, the poster child for the decline of the U.S. auto industry … one company there is hoping the city will soon be known for its contribution to the biodiesel industry.
The Flint Journal reports that OnSite Energy LLC's Genesee Biodiesel Processor is a first-of-its-kind, automatic machine that can make cooking oil into biodiesel with only 20 minutes of work for school districts, municipalities, farmers and trucking companies:
"We're reducing waste here," [Michael Witt, CEO of OnSite Energy] said. "This is just home folks making a good product and we're going to sell the hell out of it."
The Genesee processor is the smallest of three such machines being produced in Flint at the company's headquarters… They feature a fully automatic processor that converts vegetable or used cooking oils into biodiesel fuel.
Witt said they're the first automatic machines of this size on the market. They're designed to help reduce or eliminate dependence on foreign oil, he said.
It's currently being tried out in at least one school district, and the Mass Transportation Authority is also looking into acquiring one, officials said.
The article goes on to say that Witt admits the new machine isn't pretty, but it's tough and not going to break … important for in-the-field operations.
The 10-30 jobs the new biodiesel processor is expected to produce in Flint won't replace the thousands who lost their auto industry jobs, but it could be a good start for a new, green community.