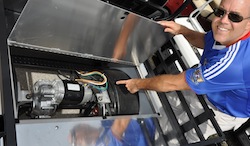 Have an inkling to cruise around town in a fuel efficient car? Then check out the new 'All American' line of 15 solar electric Low Speed Vehicles (LSV) developed by Cruise Car, Inc. The cars are manufactured in the U.S. and use up to 50 percent recycled or certified re-manufactured parts and materials. The LSV line cars are constructed with welded aluminum space frames using custom aluminum-alloy extrusions and meets the requirements of Executive Order 13514 mandating that government agencies meet a number of energy, water and waste reduction targets, including a 30 percent reduction in vehicle fleet petroleum use by 2020 and a 50 percent recycling and waste diversion by 2015.
One of the biggest targets for the All American car is the U.S. military. Just last week, the company shipped 30 of the LSV's to the U.S. Navy base in San Diego.
"Cruise Car's entire mission is to provide solar powered transportation where it makes sense — from the neighborhood family transport to entire fleets of low speed maintenance or utility vehicles," says Ken Chester, President of Cruise Car, Inc. "Our All American models are the most efficient solar electric vehicles in the world and we are especially proud to have engineered a unique electric vehicle that provides a measurable lowering of green house gas emissions and also meets market demand for high quality American-made products at competitive prices."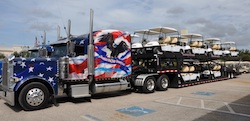 Cruise Car and Eco Trans Alliance, who supplied the Sunray Solar Tops, will be showcasing the All American LSV's and Sunray Solar Tops at Solar Power International 2010, the largest business-to-business solar conference and expo in North America from October 12th to 14th at the Los Angeles Convention Center. Tax incentives are available and the LSV's are perfect for golf courses, college campuses resorts, and more.
"Our All American line offers several key benefits for LSV users, particularly in the large fleet environment," stated Adam Sulimirski, Cruise Car General Manager. "They are reliable, will not rust, have extended driving range and all parts are interchangeable and widely available worldwide for optimum fleet operational efficiency."