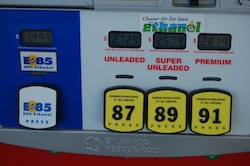 On Wednesday, the Department of Energy sent a letter to the State Energy Program and EECBG program grantees reiterating their support for the deployment of renewable fuels through funds awarded as part of the 2009 Recovery Act. There has been widespread frustration throughout the ethanol industry on the length of time it has taken for these funds to be dispersed to those companies that have been awarded monies.
In the letter, DOE Deputy Assistant Secretary for Energy Efficiency Kathleen Hogan wrote, "With over 7 million flex-fuel vehicles already on the road and millions more being produced every year, the market for renewable fuels will continue to grow. Therefore, there is a need to increase the number of compatible fueling dispensers in order to meet our nation's energy goals, particularly in renewable fuel producing regions of the nation in the near term."
Hogan continued, "With this is mind, DOE is encouraging grantees to consider allocating or increasing funding to renewable fuel infrastructure programs in those regions of the country most conducive to and in need of increased infrastructure investments."
The DOE has prepared a program that it feels properly identifies industry characteristics and partners that will be critical to the successful national deployment of renewable fuels infrastructure.
Growth Energy CEO Tom Buis responded to DOE's letter by saying, "We commend the Department of Energy for their efforts to help address some of the infrastructure barriers that prevent our industry from reducing our dependence on foreign oil, creating jobs here in America that can't be outsourced, and improving our environment. If we are truly going to realize our nation's energy independence goals, we need to ensure that our entire vehicle fleet and fuel infrastructure are ready to use expanded U.S. ethanol production. Each additional flex fuel vehicle and blender pump gives consumers the option of filling up with clean, renewable ethanol to create a more secure energy future for this country."