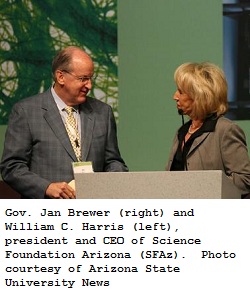 The state of Arizona is providing $2 million to support research and development of alternative fuels, especially the development of algae into biofuels.
KPHO-TV in Phoenix reports Gov. Jan Brewer made the announcement during this week's Algal Biomass Organization's national conference in Phoenix:
"Our state has the potential to be a national and global leader in algae research and biotechnology, reducing America's dependence on fossil fuel while increasing opportunities in a new industry that will create promising new jobs for Arizonans," Brewer said.
The project will be paid for through the State Fiscal Stabilization Fund, according to Brewer's office.
Brewer called on Science Foundation Arizona to lead the state effort in support of a new Arizona Center for Algae Technologies and Innovations, or AzCATI.
"Science Foundation Arizona funded early state work in algal research; now combined with excellence at ASU, our state will build on this important research and commercialization opportunity," Brewer said.
"This infusion of funding to the AzCATI will go a long way toward moving Arizona into the forefront for 'green' technologies research and development, eventually bringing these products to market," said William C. Harris, president and CEO of Science Foundation Arizona. "Arizona has the potential to become the hub of all sustainable industries, particularly when there is this type of public support."
The article goes on to say that work at Arizona State University has focused on developing new methods to extract oil-rich algae strains and turn it into biodiesel.