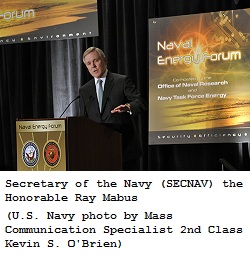 The U.S. Navy will be hosting this year's Navy Energy Forum, Oct. 12-13 at the Ronald Reagan Building and International Trade Center in Washington, D.C.
This yearly forum, this time entitled "Seapower Repowered: Energy as a Force Multiplier and Strategic Resource," brings military, government, and industry leaders to talk about energy and the warfighter:
Distinguished Navy speakers include the Honorable Ray Mabus, Secretary of the Navy, and Admiral Gary Roughead, Chief of Naval Operations. Guest speakers include Former Senator John Warner (R-Va), Dr. George Friedman, international affairs expert and chief executive officer of STRATFOR, and Dr. Daniel Yergin, chairman of Cambridge Energy Research Associates and Pulitzer Prize winner for his bestseller, "The Prize."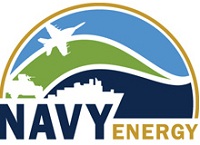 Building on a year of progress toward the Secretary of the Navy's energy goals announced in fall 2009, participants will focus on policies, partnerships, technologies, and culture change needed to move these goals forward. Issues such as reducing lifecycle energy costs, grid security, and alternative fuels will be addressed. The forum will also address the "Navy Energy Vision for the 21st Century," which identifies the Navy's way forward for increasing energy security.
Navy officials say energy is a national security issue.
More information about the conference is available at http://www.ndia.org/meetings/1600/Pages/default.aspx.