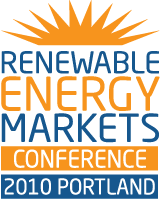 In it's 15 year, the Renewable Energy Market Conference is set to kick off in Portland, Oregon on October 19, 2010. But it's not too late to register and join hundreds of marketers, policymakers, purchasers, utility representatives, and more in learning about where the renewable energy market is heading. Speakers will also discuss ideas and strategies to improve your business, obtain new customers and help promote clean energy.
Here are some highlights of the conference:
1. Take a Seat at the Power Table. The opening session includes a roundtable discussion with industry leaders: Portland General Electric President/CEO Jim Piro; Pacific Power President Pat Reiten; Commissioner John Savage of the Oregon Public Utilities Commission; Whole Foods Market's Global Leader for Energy Kathy Loftus; and NextEra Energy Senior Director Rick Anderson. PLUS: Keynote Speaker Steve Chalk, Chief Operating Officer for U.S. Department of Energy's Office of Energy Efficiency and Renewable Energy (EERE).
2. Learn the Basics of Buying Green Power. Best practices for buying green power for your home or business.
3. Master the Fundamentals of Markets and Trading. An overview of REC markets, players and their motivations, trading, contracts, and back office support systems that make these markets work.
4. Measure Your GHG Footprint and Find Profitable Solutions. Learn the latest on federal policies for carbon disclosure, accounting practices and the added value of renewable energy.
Don't miss out on the chance to see over 80 speakers in 30+ sessions over the course of three days while learning everything you need to know about the future of renewable energy and the drive to clean energy will help your business thrive. Click here to register.