The Center for American Progress Action Fund (CAPAF) has released a new analysis that concludes that Big Oil and other special interests have spent millions of dollars in lobbying and campaign contributions to defeat clean energy legislation. The study, "Dirty Money" found that the top 35 spending companies and trade associations, including oil, mining and electric utility,  invested more than $500 million in lobbying and campaign contributions from January 2009-June 2010 to crush clean energy and clean tech legislation. Besides the federal level, one of the states Big Oil has been most active in is California. When analyzed the groups spent $1,800 in lobby expenditures a day for every senator and representative during the time of the study.
According to CAPAF this high dollar spending and political pressure has convinced enough legislators to oppose clean energy measures that would have created jobs, reduced oil use and cut pollution caused by global warming. To date, no comprehensive environmental policy has been passed, the renewable electricity industry is struggling for a federal renewable energy mandate, the biodiesel industry has lost its tax credits, and rumors coming out of DC this week are that the ethanol tax credit will not be extended either.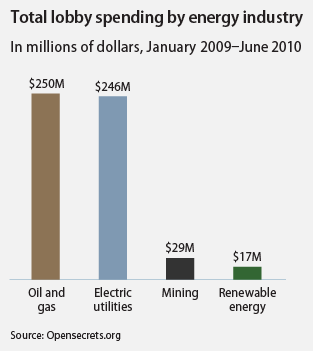 "This year had many extreme weather disasters and fossil fuel catastrophes. Yet too many senators ignored these events and instead heeded the extreme views of big oil, dirty coal, and their allies rather than those of the American people," said Daniel J. Weiss, Senior Fellow and Director of Climate Strategy for the Center for American Progress Action Fund. "America suffered from its hottest temperatures and worst offshore oil blowout, yet enough senators opposed clean energy reforms that made change impossible so far."
Six of the seven companies with the largest lobbying expenditures are Big Oil companies*ExxonMobil (1), ConocoPhillips (2), Chevron (3), BP (5), Koch Industries (6), and Shell (7). According to "Dirty Money," their 18-month lobbying expenditures total $143 million. In addition, the study reports that the American Petroleum Institute, a Big Oil front group, spent $11 million to lobby Congress to defeat pollution reductions and maintain their tax loopholes, along with another $126 million on television ads just this year alone.
"While big oil, dirty coal, and other special interests profit from inaction, everyday Americans will pay the price of doing nothing. Clean energy investments and pollution reductions would create jobs, protect public health, and reduce our oil dependence," noted Weiss. But because enough senators caved to special interests, China will get our clean energy jobs while we are stuck with the dirty energy pollution."
Ironically, this past July, China became the world's largest user of energy, surpassing America and according to analysts polled by Bloomberg, China will become the largest importer of oil within the next 1o years.