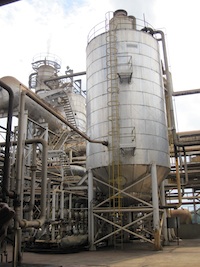 The U.S. federal government may be dragging its heels on its support for biofuels, but many states, including Ohio, are stepping up to plate. The Dayton Business Journal has reported that Ohio has designated an $8 million fund to boost biofuel production by subsidizing ethanol and biodiesel refining equipment purchases. The program is designed to give ethanol and biodiesel equipment manufactures based in Ohio a market boost.
The money is actually coming from the state's $96 million energy project allocation as part of the American Recovery and Reinvestment Act. The Ohio Department of Development's Energy Resources Division is currently accepting applications for funding under the Advancing Biofuels Beyond the Basics program. Awards will be given for projects not to exceed $1 million for any one project, and are designated for the purchase of equipment that will increase second generation ethanol refining capacity or biodiesel production facilities.
Requirements of the program include a stipulation that the company receiving the award must pay at least 25 percent of the total project cost, the project must be complete within one year of the award and it must demonstrate a direct economic benefit to Ohio.
A bidders' conference is scheduled in Columbus on Oct. 6. Registration is required by e-mail at Recovery.Stickel@em.ohio.gov.