Kentucky-based Alltech Inc. has bought a $14 million state-of-the-art algae fermentation facility in Winchester, Kentucky from Martek Bioscience Corporation.
This press release from the natural animal nutrition company says the facility will be used, in part, to make biofuels, including ethanol:
"For Alltech, algae fermentation presents our latest technological platform from which we expect incredible opportunities in the areas of food, feed and fuel to arise." said Alltech Founder and President, Dr Pearse Lyons. "We have worked in this area for several years and see it playing a major role in both human and animal health and nutrition as one of the world's more renewable food and energy sources. As with virtually all facilities we acquire, we expect to start an expansion phase here in Winchester within the next 18 months. I am confident that this will be one of the key pieces that will help our company pass the $1 billion revenue threshold in 2015," Lyons continued.
The purchase price will be paid over four years and will include the majority of the assets on the 23 acre site. The site will be renamed Alltech Winchester and will represent a further increase of over 1 million liters of fermentation capacity for the company and become its 5th primary production site in North America and 10th globally. Alltech also has 21 further production sites, which tailor its products for its 120 local markets.
Algae are some of the fastest growing plants in nature and have the ability to convert large amounts of carbon dioxide into oxygen, a characteristic that makes it particularly interesting in today's more environmentally conscious world.
"Alltech is actively developing processes that are derived from a variety of different algae types," said Becky Timmons, Alltech's Director of Applications and Quality Assurance. "Algae are one of the most diverse organisms in the world and their potential for product development is tremendously exciting for us. Alltech currently has the largest carbon dioxide sequestering algae pilot plant system in the state of Kentucky and this new acquisition will allow us to move our research yet further towards true implementation." she continued.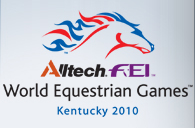 The facility will allow for continued work with Alltech's carbon dioxide sequestering algae strains as well as strains that are grown with other carbon sources. The algae will then be used for value-added feed products, algae derived bio-fuel, and the production of ethanol.
Alltech's rural Biorefinery, which started the company's interest in algae, will be shown off at the Future of Farming section in the Alltech Experience Pavilion at the Alltech FEI World Equestrian Games 2010 held in Lexington, Kentucky from September 25 to October 10, 2010.