They're some of the newest and brightest scientific minds in the country, so it just makes sense that the Next Generation Scientists for Biodiesel would choose one of the most cutting-edge formats to hold the first interactive virtual conference on biodiesel for students.
These biodiesel champions will join one of the nation's foremost biodiesel researchers from the National Renewable Energy Laboratory (NREL) and National Biodiesel Board staff in leading the online event on September 28, 2010 from 7 – 9 p.m. Eastern time.
Higher education students and faculty interested in the future of biodiesel – from emerging research, to the state of the industry and career trends to environmental attributes – are invited to register for this one-of-a-kind virtual conference.
Participants will learn the latest on how biodiesel is the nation's only commercially available, domestically produced advanced biofuel. NREL's Dr. Bob McCormick will cover research on storage stability, compatibility with emissions control technology, and cold temperature performance. Participants will also learn about the biodiesel industry itself, including employment opportunities, and hear from other students leading biodiesel efforts on their own campuses.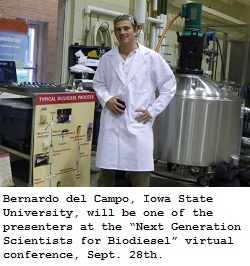 The virtual conference comes on the heels of the launch of the Next Generation Scientists for Biodiesel initiative. This new group formed to demonstrate and grow support for biodiesel among tomorrow's scientific leaders. The campaign launched with 28 founding members of an on-line declaration of support for biodiesel, America's only domestically produced commercially available advanced biofuel.
Participants will have a chance to ask questions of the virtual conference presenters, who are:
* Don Scott, NBB Director of Sustainability
* Dr. Bob McCormick, Principal Engineer, National Renewable Energy Laboratory (Golden, Colo.)
* Jason Strull, Next Generation Scientists for Biodiesel Co-chair (University of Nevada -Reno)
* Lucas Ellis, Next Generation Scientists for Biodiesel Co-chair (Dartmouth College)
* Bernardo del Campo, Next Generation Scientists for Biodiesel Co-chair (Iowa State University)
The NBB is hosting the event with support from the United Soybean Board and soybean checkoff.