It's an issue we've talked about before … plenty of ethanol and biodiesel and vehicles that can burn the green fuels but not enough infrastructure to support those cars' and trucks' needs. But a little help from the government is changing that in one of the largest concentrations of privately-owned vehicles … and incidently, one of the largest concentrations of flex-fuel vehicles in the country … California.
Matt Horton is the CEO of Propel Fuels, a California-based company that provides E85 ethanol and biodiesel to existing stations. He says having the types of pumps that can handle those fuels is biggest problem.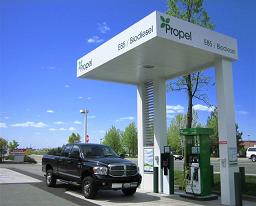 "One of the key challenges in the alternative fuels and biofuels market in particular being the lack of infrastructure to provide everyday customers with access to the fuels."
He says there are plenty of flex-fuel vehicles that can burn E85 ethanol and plenty of diesel vehicles able to use biodiesel. But the infrastructure to provide these biofuels and the public's awareness that they can use ethanol in their flex-fuel vehicle are lacking. To fix that, Propel has received $11 million in state and federal grants to put in 75 E85 ethanol pumps in California. Anthony Eggert sits on the California Energy Commission (CEC). He says the state's portion of the money … about four million dollars … comes from California's Alternative and Renewable Fuels and Vehicle Technology program … also known as AB 118, named for the enabling legislation that created it. He justifies the tax money spent on this program as just a drop in the bucket compared to what consumers have to spend on non-renewable, petroleum-based fuels.

"It's around $100 million per year for the CEC to invest in a portfolio of non-petroleum fuels to reduce greenhouse gas emissions, lower our petroleum dependency and improving our energy security. In California alone, we spend approximately $150 million per day on gasoline and diesel fuel." He says the impact on the economy due to volatile fuel prices, as well as environmental issues and the vulnerability to foreign nations that might not always be the friendliest, makes the grant money well spent. Plus, it will pay dividends in the form of new jobs, less foreign oil and more money in consumers' pockets.
You can listen to the Domestic Fuel Cast here. Domestic Fuel Cast