The Department of Public Utilities (DPU) of Los Alamos County is receiving the Energy Leadership Award from the New Mexico Association of Engineers (NMAEE) for their commitment to upgrading the grid for solar power. The award honors a person or organization for their demonstrated leadership, innovation and commitment to the smart grid project in New Mexico, a component of the statewide New Mexico Green Grid Initiative (NMGGI).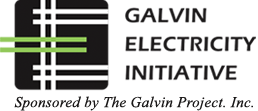 "The community of Los Alamos is excited to lead this demonstration project, which is designed to prove the viability of utility-scale solar power with smart grid technology. This is the forefront of implementing real-world green technology," said DPU's Deputy Utilities Manager for Engineering, James Alarid.
The Los Alamos smart grid project will be implemented by a team that includes DPU along with the New Energy Technology and Development Organization (NEDO) of Japan's Ministry of Economy, Technology and Industry and the Los Alamos National Labs, which supports the NMGGI led by the State of New Mexico and the Galvin Electricity Initiative in developing its components.
Among the components of the smart grid project at Los Alamos are a 2 megawatt photovoltaic array, 7 megawatt-hour battery storage system, which is enough to power 3,300 homes for 1 hour, and a smart demonstration home that will use green construction techniques and feature smart meters and appliances to effectively demonstrate how smart energy technology can help consumers save energy and money.
Although the project has not received any federal funding, the DPU agreed to move forward with the project with $17 million in financial backing from NEDO along with $10 million to be funded by a Power Purchase Agreement through the DPU.
"The Los Alamos Department of Public Utilities has demonstrated significant leadership and resiliency by agreeing to move forward with this ground-breaking project using a major investment of its own resources," said Jack McGowan, a consultant for NMGGI, partner with the Galvin Electricity Initiative and a member of NMAEE. "The DPU is taking important steps to ensure that its electricity consumers will be able to make informed decisions about energy consumption in the future, while meeting its carbon-neutral objective."