BlueFire Renewables, Inc. has signed a 15-year "take-off" contract with Nebraska-based power producer Tenaska Biofuels LLC to sell all of the cellulosic ethanol produced at its Fulton, Mississippi facility to the company. The biorefinery under construction in Fulton will use local green waste and wood waste to produce approximately 19 million gallons of ethanol per year.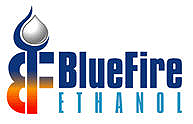 "This off-take agreement is a significant step forward for BlueFire. It provides immediate revenue once our plant is on-line. Also, it will move BlueFire closer to a debt financing agreement with the Department of Energy and U.S. Department of Agriculture," said Arnold Klann, CEO of BlueFire Renewables, Inc. "This is one of the first cellulosic ethanol contracts of its kind in the United States establishing BlueFire as a clear leader in the industry."
According to a new release from Tenaska, pricing of the 15-year contract follows a market-based formula structured to capture the premium allowed for cellulosic ethanol compared to corn-based ethanol giving BlueFire a credit worthy contract to support financing of the project. However, despite the long-term nature of the contract, BlueFire is not precluded from the upside in the coming years as fuel prices rise.
Dave Neubauer, TBF General Manager and Vice President, said of the partnership, "We look forward to a long-term relationship with BlueFire and to collaborating on off-take agreements for future plants as BlueFire continues to expand and bring valuable biofuels to the markets that need it most."