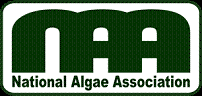 The National Algae Association (NAA) will be holding its national conference next week, and the focus of the gathering will be on commercial scale production of the green microbes.
NAA officials say at the Sept. 23-24 conference at the Sheraton North Houston near George Bush Intercontinental Airport, they will be working on the premise that algae will be delivering on a large scale soon because the science problems have been solved … now, it's an engineering problem:
The NAA Engineering Consortium has developed preliminary design specs for a 100-acre commercial scale algae production facility build-out, identifying and resolving many of the scale-up issues that will be encountered as we move the industry out of the lab and into commercialization. These plans, along with the CAPEX and OPEX financial models and detailed 'algaenomics' developed on behalf of NAA, will be reviewed and discussed in great detail at the next NAA conference, September 23-24, 2010, in Houston, Texas.
Also on hand to discuss new and innovative ways to help get algae out of the lab and into commercial-scale production will be Dr. Brian Hampson of CalPoly, Marco Brocken of Evodos, Joseph Holroyd of LakeMaster Corp, Victoria Kurtz of Fluid Imaging Technologies, Surijit Khanna of BARD Holding, OriginOil, Phykos, Dave Philbrook of Water Management Solutions, LLC, Dr. Matt Prufert of DRS Technologies, Mark Hanson of Stoel Rives, Serge Randhava of United Technologies, Inc., Bill Ramey of Novak Druce + Quigg, Sebastian Thomas of Parry Nutraceuticals, Bob Vitale of Waterwheel Factory, Bob Weber of Sunrise Ridge Algae, and Will Thurmond of Emerging Markets Online. Hank Gilbert will discuss his Fields to Pump Biofuels Initiative, a program that can be implemented throughout the country.
More information and registration are available here.