This past Sunday, Tom Weis left Boulder, Colorado on a hybrid electric-assist recumbent trike on a 2,500 mile journey that will end in Washington, DC. Coined the Ride for Renewables, Weis is set out to gain support for his plan that calls for a 100% renewable electricity grid for the U.S. by 2020.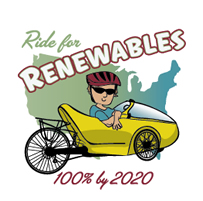 Weis believes that 2010 is the year America needs to set the agenda to address climate change and he is so passionate about making change, that he is willing to pedal across the country to build grassroots support for his plan. He writes on his website, "This is about everyday Americans "taking back our power" by demanding a green industrial revolution that will put unemployed Americans back to work, reestablish our role as world economic leader, and help ensure future generations a livable planet."
Weis will be traveling through Colorado, Kansas, Iowa, Illinois, Indiana, Ohio, Kentucky, West Virginia, Virginia, Maryland and ending in Washington, DC. Along the way, he will highlight local renewable projects, bring attention to old, dirty technologies that need to be replaced and solicit signatures for his petition that he will present to DC legislators. You can follow his journey online at www.climatecrisissolutions.com where he will post photos and videos and he will also be posting to various social media sites.